Ridley Acoustics IWSD250 10 inch In-Wall Dual Voice Coil Passive Subwoofer
MSRP $456.95
The Ridley Acoustics IWSD250 in-wall 10" In-Wall Subwoofer is a Dual channel passive subwoofer that fits in standard 2" x 4" x 16 inch on center walls.

The IWSD250 is a driven by amplified Stereo low pass signals. One IWSD250 may be fitted with two modular MX10 passive Mono crossovers for high level dual channel in with Dual channel low & high pass out for use with a satellite speaker(s).

The IWSD250 Woofer is for people who want an In-Wall Subwoofer that is a near equal to the sound quality of the best cabinet type Subwoofers, but do not want the inconvenience or unsightly situation of fitting a speaker cabinet into their living space.

The IWSD250 is perfect for the latest Dolby Digital Home Theater System technology. Match one of these audiophile inspired design with any brand In-Wall speakers to greatly enhance the bass response in a smooth extended manner while maintaining an uncluttered living space.
FEATURES:
10" butyl surround polypropylene driver
Tuned twin port design
Tuned for optimum performance in a wide variety of wall
configurations, including standard 2" x 4" & 2" x 6", 7 ft 10" high residential walls
Supplied with port plugs
Frequency Response: 25 - 200 Hz
Sensitivity: 87 dB @ 1 W/m
Power Handling: 150 Watts max.
Impedance: 8 Ohms nominal
White powder coated perforated aluminum grille
25 Year Transferable Warranty
SPECIFICATIONS:
Cut-out dimensions: 14 1/2" W x 16 1/2" H
Mounting depth: 3 3/8"
Overall dimensions: 19 1/2" x 19 1/2", 1 3/4" Face Relief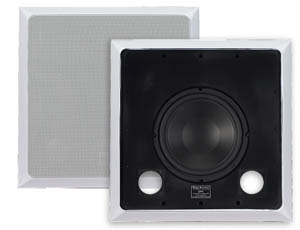 RIDLEY ACOUSTICS IWSD250 10 inch In-Wall Dual Voice coil passive Subwoofer