Ridley Acoustics IWS250 10 inch In-Wall passive Subwoofer
MSRP $410.75/ea
The IWS250 in-wall 10" In-Wall Subwoofer is a single channel passive subwoofer that fits in standard 2" x 4" x 16 inch on center walls.

The IWS250 is a single channel model, one may be driven directly by an amplified Mono low pass signal or two separate units may be driven by amplified Stereo low pass signals. One or two IWS250 may be fitted with modular MX10 passive Mono crossovers for high level single channel in with single channel low & high pass out for use with a satellite speaker(s).

The IWS250 Woofer is for people who want an In-Wall Subwoofer that is a near equal to the sound quality of the best cabinet type Subwoofers, but do not want the inconvenience or unsightly situation of fitting a speaker cabinet into their living space.

The IWS250 is perfect for the latest Dolby Digital Home Theater System technology. Match one or two of these audiophile inspired design with any brand In-Wall speakers to greatly enhance the bass response in a smooth extended manner while maintaining an uncluttered living space.
FEATURES:
10" butyl surround polypropylene driver
Tuned twin port design
Tuned for optimum performance in a wide variety of wall
configurations, including standard 2" x 4" & 2" x 6", 7 ft 10" high residential walls . *
Includes port plugs
Frequency Response: 25 - 200 Hz
Sensitivity: 87 dB @ 1 W/m
Power Handling: 150 Watts max.
Impedance: 8 Ohms nominal
White powder coated perforated aluminum grille
25 Year Transferable Warranty
SPECIFICATIONS:
Cut-out dimensions: 14 1/2" W x 16 1/2" H
Mounting depth: 3 3/8"
Overall dimensions: 19 1/2" x 19 1/2", 1 3/4" Face Relief
* For optimal performance we recommend wall cavity contain noise deadening insulation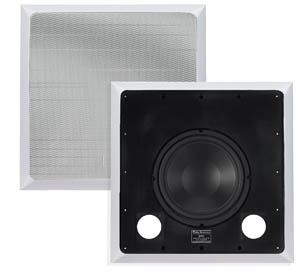 RIDLEY ACOUSTICS IWS250 10 inch In-Wall Subwoofer