Ridley Acoustics KVC85F 8 inch Kevlar
Frameless in-ceiling speakers
MSRP $399.99/pair
The Ridley KVC85F Reference Standard frameless in-ceiling speakers are built with the finest of materials including Kevlar woofers, Ferro-fluid cooled soft dome teeters and high performance crossovers. With a full frequency range of 35hz to 20Khz they are perfect for whole home audio or mid and rear surrounds in a large home theatre.
Exclusive grill design allows True Frameless Speakers
The soft dome tweeters pivot to allow accurate audio targeting and accurate sound staging. The Kevlar woofer provides extremely accurate bass response.

The grilles are factory finished in white, which will stand as a finish on its own or as a primer base if painted to match or complement wall finish or room décor without the need for any additional preparation.
FEATURES:
8" black Kevlar woofer with butyl surround
1" pivoting dome tweeter
True Frameless Grill
91 dB sensitivity
12 dB/Octave crossover
Frequency Response: 35 Hz - 20,000Hz
Power Handling: 100 watts max.
8 Ohms
25 Year Transferable Warranty
SPECIFICATIONS:
Includes pre-construction drywall locators (cardboard)
Magenetically Attached Frameless Grill
Cut-out dimensions:
Inches: 8 5/8" round x 3 3/8 " deep
Centimeters: 22cm round x 8.5cm deep



Overall dimensions:
Inches: 9 3/4" round
Centimeters: 25cm round


Pre-construction bracket: Available
Pre-construction bracket with Vapor Dome: Available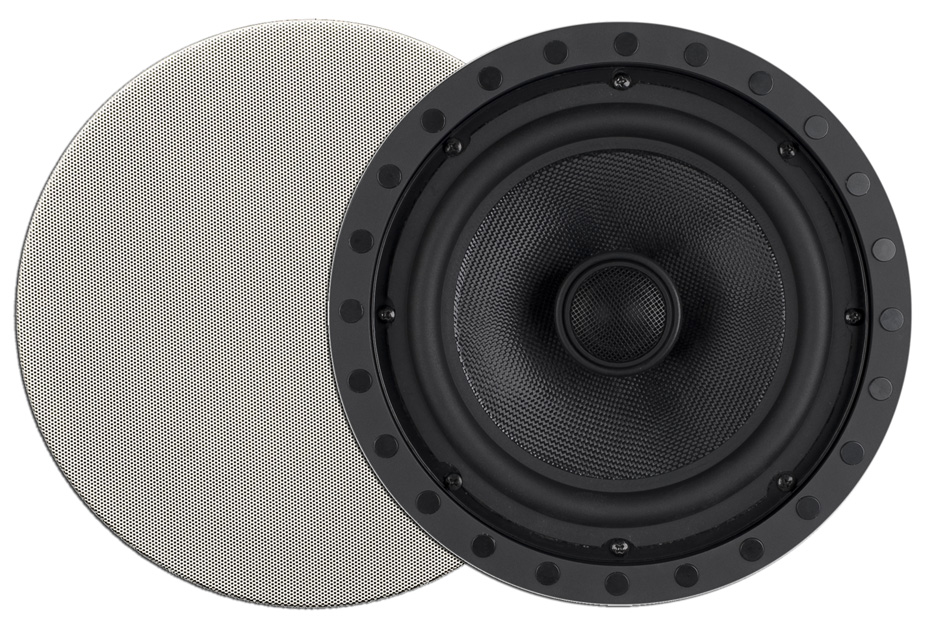 RIDLEY ACOUSTICS KVC85F 8.5 inch Kevlar in-ceiling speakers