Ridley Acoustics KVC625 6.5 inch Kevlar
in-ceiling speakers
Discontinued
The Ridley KVC625 Reference Standard in-ceiling speakers are built with the finest of materials including Kevlar woofers, Ferro-fluid cooled soft dome teeters and high performance crossovers. With a full frequency range of 45hz to 20Khz they are perfect for whole home audio or mid and rear surrounds in a smaller home theatre.
The soft dome tweeters pivot to allow accurate audio targeting and accurate sound staging.

The frames & grilles are factory finished in satin white, which will stand as a finish on its own or as a primer base if painted to match or complement wall finish or room décor without the need for any additional preparation.
FEATURES:
6 1/2" black Kevlar woofer with butyl surround
3/4" pivoting soft dome tweeter
91 dB sensitivity
12dB/octave crossover
Frequency Response: 45 Hz - 20,000Hz
Power Handling: 80 watts
8 Ohms
25 Year Transferable Warranty
SPECIFICATIONS:
Cut-out dimensions:
Inches: 7 3/8" round x 2 7/8" deep
Centimeters: 19cm round x 7cm deep



Overall dimensions:
Inches: 8 3/8" round
Centimeters: 21cm round



Includes pre-construction drywall locators (cardboard)
cutout marking compass
Pre-construction bracket: Available
Pre-construction bracket with Vapor Dome: Available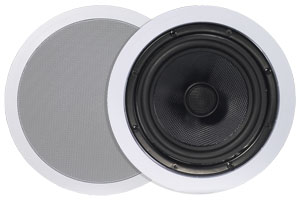 RIDLEY ACOUSTICS KVC625 6.5 inch Kevlar in-ceiling speaker